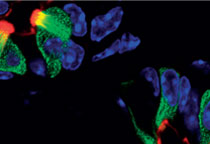 UNIQUE TUFT CELLS
Wahl Lab
Research Scientists: Kathleen DelGiorno, PhD, and Geoffrey Wahl, PhD
Understanding early changes in the pancreas will help scientists develop new and better diagnostics and treatments for pancreatitis and pancreatic cancer. This image shows a new discovery: tuft cells forming in response to pancreatic injury. These cells, which communicate with surrounding cells and mitigate injuries, are co-opted by tumors and may represent a new pathway between injury and cancer formation. The green is a dense structural network within the cell, which allows it to generate signaling molecules and communicate with surrounding cells. The red marks the dynamic actin rootlets, a structure that is unique to these rare cells.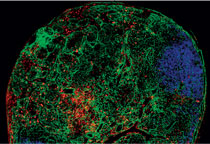 IMMUNE CELLS IN LYMPH NODES
Kaech Lab, NOMIS Center for Immunobiology and Microbial Pathogenesis
Research Scientists: Yagmur Farsakoglu, PhD, and Professor Susan Kaech, PhD (additional credit to the Waitt Advanced Biophotonics Core)
Lymph nodes are like army bases and immune cells are the soldiers. These immune cells get trained and activated in the lymph nodes (green) to fight infections and cancer. B cells (blue) make antibodies, while killer T cells (red) directly find and kill infected cells. Training these killer T cells takes days. However, it's not known where these T cells live in the lymph nodes during training. This image shows that, during a bacterial infection, while antibody-producing cells cluster in certain areas, killer T cells are distributed more widely. Understanding these space and time-dependent dynamics could improve treatments.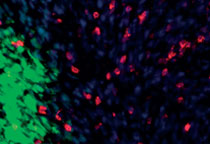 MANIPULATING TUMORS TO ENHANCE THE IMMUNE RESPONSE
Kaech Lab, NOMIS Center for Immunbiology and Microbial Pathogenesis
Research Scientists: Ruveyda Ayasun, graduate student and Professor Susan Kaech, PhD
Understanding the environment within and around cancer can show scientists how to help immune cells destroy tumors. Low oxygen in tumor microenvironments (a condition called hypoxia) has been linked to reduced survival for cancer patients. This image shows that critical antitumor immune cells (called T cells, red) in the microenvironment do not infiltrate hypoxic regions (green). The blue areas are cell nuclei. Perhaps by increasing the amount of oxygen in the tumor, this could help these anti-tumor T cells better infiltrate and combat some cancers.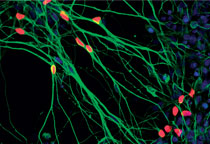 THE GUT CONNECTION TO AUTISM SPECTRUM DISORDER
Gage Lab, Laboratory of Genetics
Research Scientists: Ana Paula Diniz Mendes, RN, and Professor Rusty Gage, PhD
Brain cells derived from autism spectrum disorder (ASD) patients grow abnormally and generate neural defects. However, researchers can ameliorate these issues with a drug called insulin growth factor 1 (IGF-1), currently in clinical trials for ASD. About 30 percent of patients with autism have gut-related issues.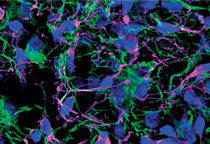 SLICE OF A NEURAL ORGANOID
Hsu Lab, Molecular and Cell Biology Laboratory
Research Scientists: Jennifer Oki, MS, and Salk Fellow Patrick Hsu, PhD, (additional credit to Silvana Konermann, PhD)
Neural organoids are 3D cell models that mimic human brain tissue and can illuminate how genetic risk factors in late-onset Alzheimer's disease cause neurodegeneration. Neural support cells, called astrocytes, are shown in green. Neurons are magenta. Blue represents cell nuclei.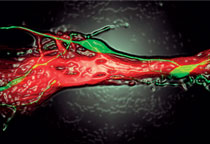 CELLULAR SYNERGY
Hsu Lab, Molecular and Cell Biology Laboratory
Research Scientists: Krishna Vadodaria, PhD, Carol Marchetto, PhD, and Professor Rusty Gage, PhD
Researchers isolate different brain cell types to better understand their function. Here, the lab generated neurons and astrocytes from stem cells. Astrocytes support neurons by producing antioxidants, recycling neurotransmitters and maintaining the blood brain-barrier. This image shows the physical interaction between neurons and an astrocyte in a dish and highlights their synergy. The astrocyte (red) supports a neuron (green) while other neurons grow along the astrocyte's body.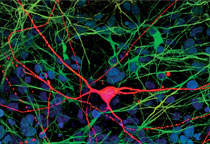 ONE OF A KIND
Gage Lab, Laboratory of Genetics
Research Scientists: Anindita Sarkar, PhD, and Professor Rusty Gage, PhD
The hippocampus is the brain's learning and memory center. Here, reprogrammed, skin-derived human neurons, grown in a dish, mimic the hippocampal neurons, allowing researchers to model psychiatric disorders. DNA is shown in blue. MAP2, a neuron marker that humans share with other species, is green. SCGN-positive hippocampal neurons, shown in red, are uniquely human. This neuronal network represents both evolution (MAP2) and a novelty (SCGN) that makes humans one of a kind.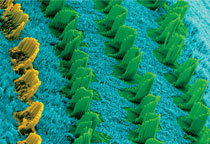 AUDITORY HAIR CELLS IN THE COCHLEA
Waitt Advanced Biophotonics Core, Salk Institue for Biological Studies
Research Scientists: Leonardo Andrade, PhD, and Uri Manor, PhD
This scanning electron microscope image shows four rows of hair cells (inner cells in yellow and outer ones in green) in the cochlea's sensory tissue, the organ of Corti. These cells transduce sound waves into electrical impulses that are sent to the brain. The cylindrical pillars on each hair cell's surface are called stereocilia. During aging, stereocilia degenerate, leading to cell death. Since hair cells do not regenerate, their death causes progressive hearing loss. Mutations in several stereocilia proteins cause deafness, and understanding their role in stereocilia development and maintenance will help scientists develop new therapies for congenital and acquired hearing loss.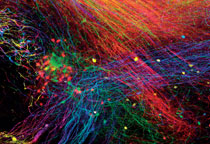 A GALAXY OF MULTIDIMENSIONAL NEURAL NETWORKS
Waitt Advanced Biophotonics Core, Salk Institue for Biological Studies
Research Scientists: Tong Zhang, PhD, and Uri Manor, PhD
This image shows a one-millimeter mouse brain section. These studies help scientists understand the relationship between different types of brain cells and map the connections between neurons in disparate brain regions. The neurons were engineered to express tdTomato, a red fluorescent protein derived from coral. Using a Zeiss Z1 Lightsheet microscope, scientists imaged every neurons in the tissue. The colors represent different depths in 3D, with warmer colors (red) closer and cooler colors (blue) farther away.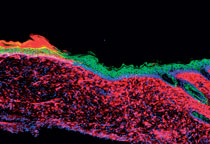 REPROGRAMMING CELLS TO ENHANCE HEALING
Belmonte Lab, Gene Expression Laboratory
Research Scientists: Masakazu Kurita, MD, PhD and Professor Juan Carlos Izpisua Belmonte, PhD
Salk scientists have reprogrammed mesenchymal cells (which can differentiate into other cell types) inside wounds to generate skin cells (called epithelium) and heal the area. This is the first time cells have been reprogrammed inside the body, which could pave the way for new cutaneous ulcer therapies. This image shows a cross-section of skin and subcutaneous tissues following wound closure. The colors track the mesenchymal cells as they become epithelial. Green represents keratinocytes, (the most common outermost skin cells). Red are mesenchymal cells. Blue are cellular nuclei, and magenta are epithelium.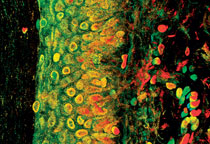 THE MANY LAYERS OF HUMAN SKIN
Hetzer Lab, Molecular and Cell Biology Laboratory
Research Scientists: Rafael Arrojo e Drigo, PhD, Simone Bersini, PhD, and Professor Martin Hetzer, PhD
Human skin is a complex organ that acts as a barrier against impacts and pressure, temperature changes and microorganisms. Skin also contains a dense microvascular network, sweat glands and hair follicles; all of which maintain a steady body temperature. This research seeks to understand how aging impacts different skin cell types. The 3D projection shows the intricate cellular architecture in the top layers of human skin. From the top down, the horizontal fiber-like pattern represents keratin, a common cell type in the outer skin. The next layer contains keratinocytes, which produce keratin. Next are skin stem cells, which produce new keratinocytes. Below that is the connective tissue that supports the layers above.