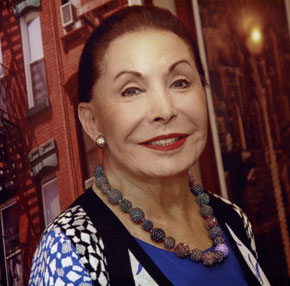 Tina Simner
An early patron of the Institute, Tina Simner first got involved via Symphony at Salk and was instrumental in bringing Chef Jeffrey Strauss on board. The culinary partnership has endured to tremendous acclaim. In recent years, she's taken an additional interest in Salk's Women & Science program. "I'm intrigued with the idea that Salk is making women in science a prominent area," she says. "And I'm so proud that we have a brilliant woman—Dr. Elizabeth Blackburn—as the Institute's President. It shows how far we've come."
Simner has experience working in a historically male-dominated field. She and her late husband ran a fashion accessories business as equal partners for more than 25 years in New York. "Many times," she recalls, "I was the only woman in the room in business meetings." After retiring and moving to Rancho Santa Fe, California, she discovered the Salk Institute. The scientists and their science impressed her. Enthused, she began lending a skilled hand at fundraising events and encouraging others to join her.
Yet art and fashion remain a big part of her life. At home, she continues to paint and create collages. And this past October, she lent her years of fashion experience to a first-of-its-kind event presented by the Women & Science program. Titled "Design and Discovery," the charitable function paired students from San Diego Mesa College's prestigious design program with colorful microscopic images of cells generated by the Waitt Advanced Biophotonics Center at Salk. The aspiring fashion designers applied these images to fabrics then created garments that were not only beautiful but also representational of the science behind the images. Besides advising the students on their sketches and fabric choices, she generously made a challenge grant of $50,000. And thoroughly enjoyed the entire project. "My mother used to say I grew up with a fashion gene," she adds with a laugh.
Simner acknowledges that she's selective about where she devotes her time and her financial support. The Salk Institute ranks high on her list. "I think it's the finest research center in our country, if not the world," she says. "I'm honored to be involved."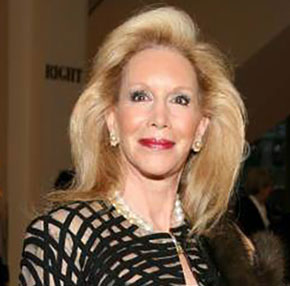 Linda Chester
Linda Chester is founding president of the Linda Chester Literary Agency, which has represented many bestselling authors. The agency has launched a wide variety of literary and commercial fiction, as well as an array of non-fiction projects in areas that include science, business, finance, history, the fine arts, popular culture, spirituality and biography. Clients have included Wally Lamb (She's Come Undone and I Know This Much Is True), Lolly Winston (Good Grief), Elizabeth Brundage (All Things Cease To Appear and The Doctor's Wife), Stephen Metcalfe (The Tragic Age), Richard Carlson (author of Don't Sweat the Small Stuff) James Hansen (First Man, the first authorized biography of Neil Armstrong which is now a major motion picture coming to theaters this fall), Daniel Wilson (Robopocalypse), Thich Nhat Hanh (Peace Is Every Breath), and Michael Feinstein (The Gershwins and Me). Linda is currently on the Board of The La Jolla Playhouse, as well as the Board for The La Jolla Music Society. She formerly served on the Salk Institute's Board of Trustees as well as the Board for the National Center for Families Learning. Linda is married to Dr. Kenneth Rind and they reside in La Jolla, California.